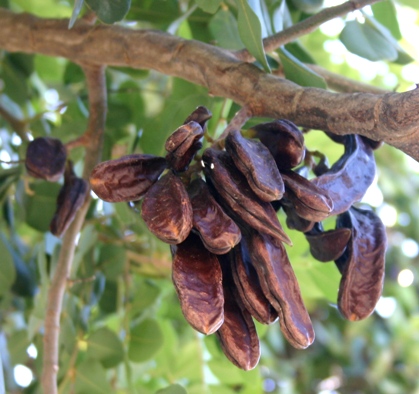 To make homemade carob syrup
remove 300 grams of seeds from the pods, break up using a flat stone and soak in 750 ml water for 12 hours.
Blend in small amounts and then continue soaking for 2 days.
Filter though muslin and pour into pre-sterilised bottles.
Place in the fridge for a day to settle. Filter the solution through muslin, measuring the volume at until it represents a fifth of the original volume.
The syrup makes a delicious topping for ice cream, for use in milk shakes or to marinate meat.
To make carob powder.
Pressure cook pods, depending on the size of your cooker, in sufficient water for 20 minutes. This softens the pods and allows for seed removal. Discard the seeds and cut the pods into small pieces then sun dry. When dry place in a blender and grind into a powder as required